Do you also remember the tedious process of uploading a document by email and sending it to a colleague in the neighboring room? Only to then, after logging in, entering the address, and uploading, receive a message that the maximum file size is too high? After which you have to transfer the data onto a USB stick and bring it to your colleague? Or even fax the file?
Fortunately, in the age of digitalization, we are spared from many of these laborious work processes. Instead, files can now be uploaded and shared within seconds, without any maximum file size, broadband restrictions, or other annoyances.
In fact, today files can be easily, quickly, and securely shared through selection or drag-and-drop. This can help to shorten work processes, make workflows more efficient, and save time.
This article will explain how exactly files can be shared online and what requirements are needed to do so.

1. Share files - quickly, effectively, and smoothly collaborate

2. Upload and share data - not just for tech enthusiasts

3. Upload and share files - how to do it in a few steps and with a few clicks

4. Upload and share files - take action now and take the decisive step


Sharing Files - Collaborate Quickly, Effectively, and Smoothly
What was once a mystery and a true nightmare for our parents is now done with just a mouse click: sharing files. The process has never been faster or more effective.
Thanks to the increasing use of clouds, it is possible to share files online, collaborate on a document with internal users through team sharing, or share with guests and track changes.
Whether you are in the same office, the same country, or on another part of the planet, uploading and sharing files works across borders and time zones.
All you need to upload a file online is an internet-enabled device, a file, access to a cloud, and the internet. Uploading and sharing data is no longer a difficulty, whether you're in the office, working from home, or on international assignments.
For example, the leitzcloud allows beginners or advanced users to upload files in just a few seconds. There are no limits on file size or bandwidth restrictions.
Furthermore, customers can choose between two options when uploading and sharing files with guests:
Secure sharing with free guest user accounts
Unsecured sharing via URL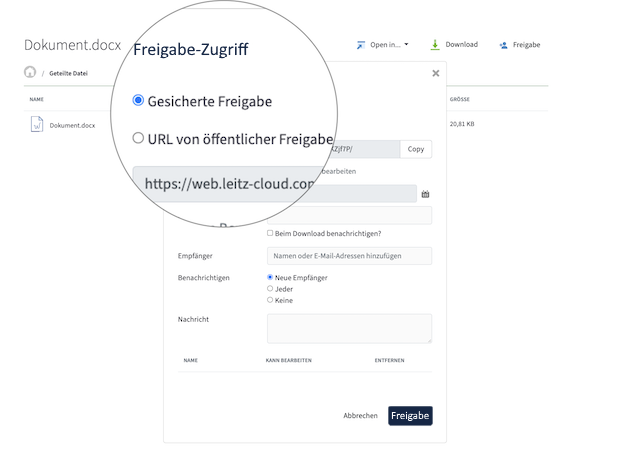 Moreover, it is possible to create unlimited guest accounts for collaboration with external partners or employees.
Uploading and Sharing Data - Not Just for Tech Fans
The cloud solution from leitzcloud is user-friendly and has a simple and clear structure for administrators and users. This makes uploading and sharing data accessible to everyone.
Your colleagues can access the documents from anywhere thanks to easy file access and can, for example, edit them. This makes collaboration easier and faster.
If you, for example, are traveling by train and enter a tunnel, and the internet connection drops, you can work offline on the document. All documents are automatically uploaded and synchronized using a sync tool when you are back online.
To connect the old with the new and not overwhelm newcomers, the use of Word, Excel, and presentations is still possible. Uploading and sharing files at the end of the process, for collaborative work or an intermediate meeting, is possible at any time.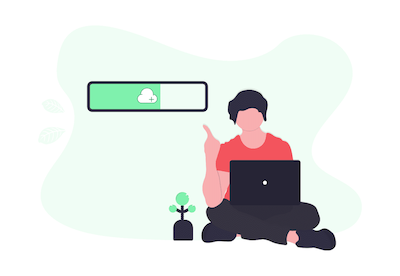 It's as easy as that
Sharing, uploading, and editing files with leitzcloud is child's play.
Create a free trial account now and try it out for yourself!
Create Trial Account
For new customers, an online demonstration is offered to make the transition easy. Among other things, uploading and sharing files are demonstrated.
Specifically designed video tutorials and instructions help with questions about uploading files online, as well as online documentation and FAQs.
True to the motto 'there are no stupid questions', customer service is available to assist you if there are any problems with file sharing. They will take care of your problem quickly through live chat, email or phone.
Cloud solutions are intended to provide solutions and support you quickly and securely with any problem, from uploading and sharing files to questions about team share or corporate governance, online editing, 2-factor authentication, and more.
Beyond user-friendly and intuitive file uploading and sharing, there are many features offered by the leitzcloud, such as:
Governance functions to keep track of everything
Individual organization settings to suit your taste
Online file sharing and collaborative editing
High GDPR-compliant security thanks to storage on German servers in TÜV-certified data centres
Individual branding of your cloud, including company logos, etc.
Customer service for questions and feedback
Remote deletion, activity logs, real-time synchronization, Outlook integration, and much more.
Advantages of uploading and sharing files with the leitzcloud include:
Previously, uploading and sharing files was cumbersome, whether by email, link, USB stick, or fax, and always took several minutes to complete.
Documents were duplicated, with an added label, and one had to keep track and coordinate to avoid working on files simultaneously.
Depending on the size of the file, the internet speed or the document could be lost. Thanks to the cloud, you are now and in the future on the safe side. Uploading and sharing files is easy and user-friendly, done in seconds.
With cloud solutions, you can:
Edit documents online and offline
Work alone or in a team
Cooperate worldwide with partners
Rely on security for sharing
Use a wide range of functions
Manage downloads
And much more!
Thanks to the cloud, it is possible to work together in real-time on documents and easily and specifically track changes.
This is possible thanks to the interfaces with offline clients for Mac and Windows, or through an app for iOS, Android or Windows Phone. File uploading and sharing is possible on various devices such as computers, laptops, smartphones, tablets, and more, thanks to multi-platform compatibility.
The leitzcloud has a lot to offer
The leitzcloud is versatile and can make your work much easier.
Find out how you can use the leitzcloud in your company by exploring all the functions.
All functions
Numerous extra features facilitate the internal workday, such as:
File revisions, which allow you to use older versions of edits and restore deleted elements
Document locking, which locks a currently edited project for others
Corporate governance, to keep track of all activities and see what has been deleted, moved or edited by which user
When collaborating with external partners, unlimited accounts for guest users are possible. A secure sharing including a guest account is automatically created for the recipient when you share your documents.
Otherwise, public sharing via link is quickly feasible, through which any owner can access selected content of the folder.
Uploading and sharing files is easy with just a few clicks:
To upload a file:
Open leitzcloud.
Go to "My Files."
Click "Upload Files."
Click "Add Files" and select the appropriate file.
Or, select the file by drag and drop.
Click the green button labeled "Start Upload."
If the file was successfully uploaded, the feedback "1/1 files were uploaded" will appear.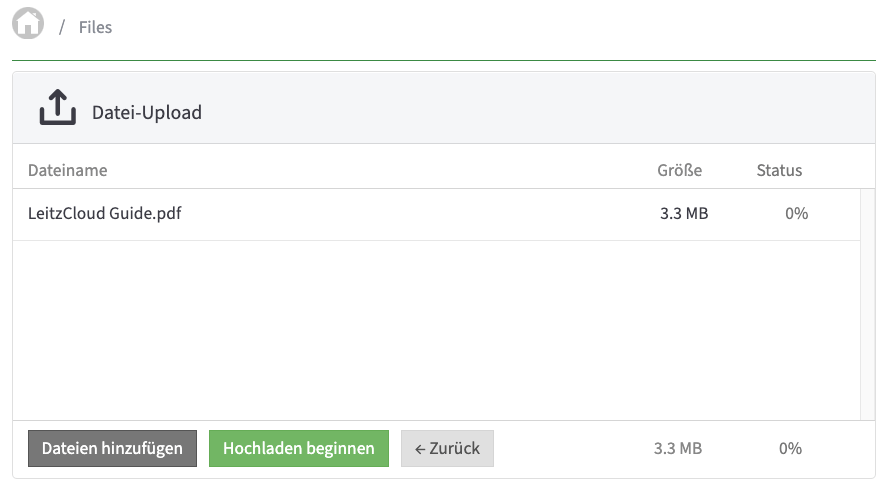 To share a file:
Go to "My Files."
Select the chosen file. Right-click, "Share."
Choose recipients and individual settings (e.g. "Notify on Download," Person XY "Can Edit" or give the sharing an expiration date)
Click the green button labeled "Share."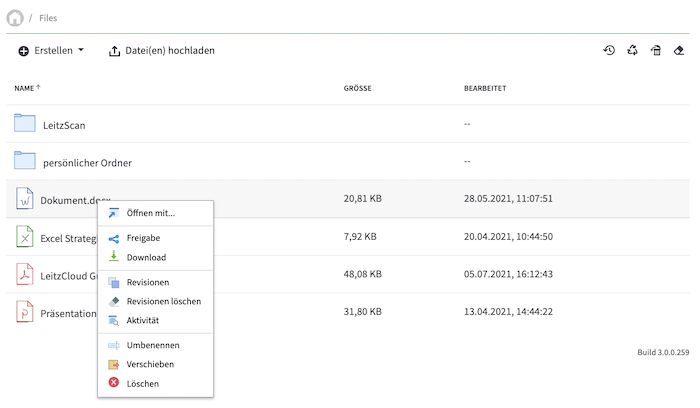 Upload and share files - act now and dare to take the decisive step
If your business has multiple locations, frequently collaborates with external partners, or has many employees, simplifying these processes and workflows through the use of a cloud can be beneficial.
A study conducted in 2016 by the auditing firm KPMG and the research department of the digital association Bitkom Research found that 74 percent of companies surveyed in Germany confirmed an improvement in performance and IT performance due to the use of a cloud.
Not a single company reported any adverse effects. However, only about a quarter of companies used cloud solutions.
Looking back instead of progress? It's only a small step, requiring just a few clicks and a short learning period. Then, you can benefit from numerous advantages.
We would be happy to discuss your individual wishes and ideas with you, starting from uploading and sharing files, to integrated branding and various governance functions.
leitzcloud was developed for companies and provides an efficient solution for your business.
Try uploading and sharing files as well as numerous settings and extras. Test our services and offers during the two-week free trial.
We are convinced that your company will benefit from a collaboration. Take a step into the future, use numerous offers that make teamwork with external partners easier and show your environment that you are using new structures to make work processes more effective, transparent, goal-oriented, faster, and easier.
Now, try it out!
Create a free account and work with the full range of leitzcloud!
No payment information required, just a few clicks.
Try out leitzcloud