More and more people, as well as businesses, are turning to the benefits of a cloud service. Yet businesses are prevented from taking advantage of a cloud service due to numerous reasons. Often, existing cloud myths are to blame. We summarise the most important cloud myths for you.

Read relaxed the complete article or jump directly to a category that interests you:
1. cloud myth: a cloud costs too much

2. cloud myth: a cloud is insecure

3. cloud myth: with a cloud I lose my data

4. cloud myth: data is not available offline

5. cloud myth: hackers can easily penetrate cloud services


Try out leitzcloud now!
See for yourself!
Simply create a trial account!
No payment information required.
Test free of charge
1. Cloud myth: a cloud costs too much


There is often the assumption that cloud computing could cause higher costs than purchasing one's own hardware and software. In general, this may be the case, but it often does not take into account the significant costs such as maintenance, operating and servicing costs of having your own IT hardware.

In addition, having your own IT infrastructure can trigger personnel costs or costs for service providers. The electricity costs of your own hardware should also not be underestimated.Of course, the costs of a cloud provider should not be disregarded. However, these differ between the individual cloud providers.

If you would like to have an overview of different cloud providers, we recommend taking look at our big cloud comparison 2021.

With leitzcloud he costs vary depending on how many users created and how much storageis required. Moreover, with leitzcloud this can always be flexibly adjusted according to individual preferences. You can also pay for our cloud service conveniently by SEPA direct debit, credit card or PayPal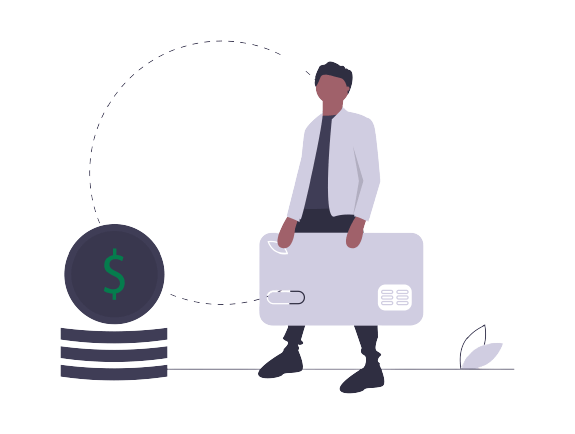 2. Cloud myth: a cloud is insecure
"A cloud service is too insecure for my data". This statement is one of the most widespread cloud myths. Many companies as well as private individuals think that their data is safer on their own servers than via cloud computing.

The problem here is not that certain security gaps might exist, it is much more about trust towards the cloud provider. What few people know is that most security incidents involve in-house servers. These are usually also more frequently affected by hacker attacks than cloud services. Cloud providers have specific recovery plans in place for worst-case scenarios such as fire, water or theft.

At leitzcloud, security comes first. The encrypted cloud storage is kept in a secure data centre in Germany. This is TÜV-certified several times and 100% DSGVO-compliant.
3. Cloud myth: With a cloud, I lose my data.
Everyone's data is important. One's own data should not be lost, let alone misused. The security of data stored in the cloud depends on certain factors. If the cloud provider encrypts the data well, higher security is usually guaranteed in the cloud than on a local server.

It should also be emphasised that cloud storage does not entail any loss of data. On the contrary, backups of the data are created. Cloud providers usually have ransomware protection , which means that the data is never lost. Several measures can be taken to prevent the risk of being infected with ransomware. It is important that a backup of your files is made. With leitzcloud, you already have a backup of your files online.

In addition, with a cloud there is the option of creating separate user workspacesto recover quickly from a ransomware infection. In addition, ransomware can only retrieve files locally to modify them. Thus, you should only grant your users online access and set expiry dates for approvals.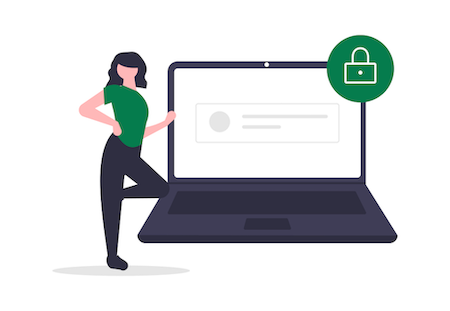 Read more about leitzcloud encryption on our website here.
Read more now
We at leitzcloud guarantee that your data in the leitzcloud will not be viewed or analysed without your permission. All information, and thus also the copyrights to the content, remain the property of the rightful owner and will not be passed on.

In addition, every user receives the two-factor authentication in the cloud free of charge. Take advantage of this extra level of security and protect your account from suspicious account activity.

Our highly secure data centre in Frankfurt is equipped with the latest technology to protect your data. Added to this are the strictest security measures , which means your data is perfectly protected.
4. cloud myth: data is not available offline
Companies are often led to believe that cloud applications can only be accessed and processed online, i.e. can only be used with a stable internet connection. Of course, the internet connection is an important part of data synchronisation. However, many cloud providers offer a so-called sync tool that allows you to work offline. This means you can easily synchronise your files on all your devices such as a laptop or smartphone.

Many cloud providers have their own app in which files can be easily accessed in the cloud even when on the move. There, documents can also be edited, shared or uploaded offline. In addition, with a sync tool, it is usually possible to select which folders are to be saved locally.

A sync tool ensures continuous synchronisation of all changes to the files. After installing the sync tool, a folder area is usually created automatically in which you can find and edit all your synchronised files.

Likewise, you can disconnect the synchronisation between the cloud and a connected device with just one click . In addition, it is easy to decide whether files should be deleted. This way, if you lose a device, you will not experience a data leak.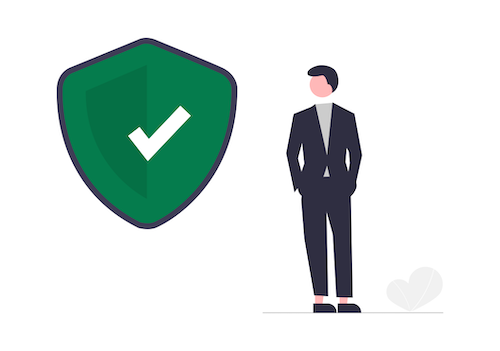 Test leitzcloud as a secure cloud solution now
Secure your data in a securely encrypted cloud, with sustainable data centre in Germany.
Save data securely now
5. Cloud myth: hackers can easily penetrate cloud services



Cybercrime is now a popular and separate profession for hackers to make a quick buck. Small and medium-sized companies often fall victim to them, as these usually have isolated security vulnerabilities.

However, most cloud providers know the hackers' procedures and tricks. Cloud services can use all the data on cyber attacks in special departments to constantly improve their cloud.

In addition, you as a customer benefit from a cloud because updates are usually carried out automatically.

The leitzcloud offers functions that allow you to restore damaged or deleted data to a desired state after a ransomware attack. Through our highly secure servers in Germany, your data is protected under the strictest security measures.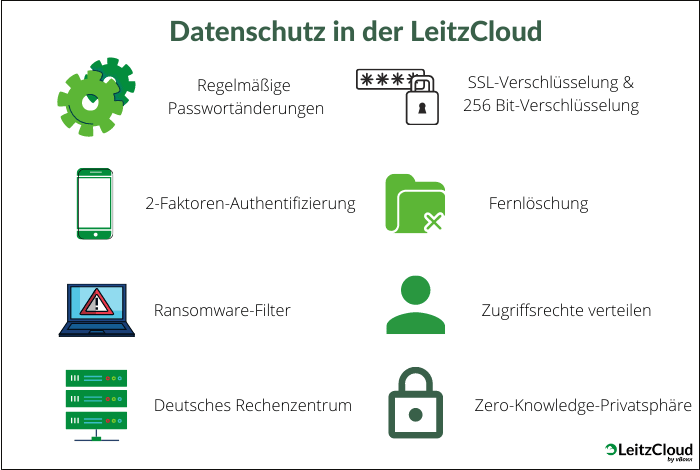 We will help you set up your leitzcloud free of charge!
You have decided on a leitzcloud storage and need help setting up your leitzcloud? No problem!

Our support team will be happy to help you open and set up your leitzcloud at no extra cost. As the administrator, you have a complete overview of storage usage, number of users, connected devices and much more at all times. Together we define all your desired users, create customer accounts and decide the rights for your partners and customers - according to your wishes.

WE help you set up your leitzcloud digitally and show you how to use the leitzcloud functions optimally in your company - both for your employees and your customers.
Don't wait and get more efficient processes and centralised management through cloud computing now!